What is a DOT drug and alcohol test?
It's a drug test that's regulated by the government, the Department of Transportation (DOT) The act required DOT agencies to implement drug and alcohol testing of safety-sensitive employees to maintain the safety of the traveling public and workers.
Why drug test?
With a well-established random drug testing program does not mean that you do not trust or even like your employees. It means that you care enough about their safety and workplace security to protect them, and yourself, from the costs of on-the-job alcohol and drug abuse. Random testing programs have proven effective in reducing workplace incidents and lowering worker's compensation claims, saving employers money.
Who is required to get DOT drug test?
Anyone designated in DOT regulations as a "safety-sensitive" employee is subject to DOT drug and alcohol testing. A safety-sensitive employee is someone who holds a job that can impact both their own safety and the safety of the public.
Federal Motor Carrier Safety Administration: Commercial Driver's License (CDL) holders who operate Commercial Motor Vehicles (CMVs), vehicles that carry 16 passengers or more (including the driver), or vehicles that transport hazardous materials and are required to display a DOT placard.
Federal Transit Administration: Vehicle operators, controllers, mechanics, and armed security.
Federal Railroad Administration: Hours of Service Act personnel, engine & train workers, signal service workers, or train dispatchers.
Federal Aviation Administration: Flight crews, flight attendants, aircraft dispatchers, ground security coordinators, etc.
U.S. Coast Guard: Crew members operating a commercial vessel.
Pipeline and Hazardous Materials Safety Administration: Operations, maintenance, and emergency response workers.
What do DOT drug tests test for?
All DOT drug tests use the same 5-panel test.
Marijuana /THC
Cocaine
Amphetamines (including methamphetamine, MDMA)
Opioids* (including codeine, heroin (6-AM), morphine, hydrocodone, oxycodone, hydromorphone, and oxymorphone)
Phencyclidine (PCP)
When are safety-sensitive employees required to get DOT drug tests?
Pre-employment testing, an employer must receive a negative drug test result before permitting an employee to start job responsibilities.
Reasonable suspicion testing must be based on specific coexistent observation of an employee's conduct, behavior, appearance or body odors. The observations must be made and documented by a supervisor who has participated in 2-hour training on the signs and symptoms of alcohol misuse and drug abuse and the requirements for reasonable suspicion testing.
Random testing must be done with a computer-generated selection process with each employee having an equal chance to be selected and tested. These are completed quarterly.
Return-to-duty testing is required after an employee has tested positive, refused, or otherwise violated part 382 and who has completed the return-to-duty process with a DOT-qualified substance abuse professional. This test is directly observed, and a negative result is required before resuming duties.
Follow-up testing is required for employees who tested positive, refused, or otherwise violated part 382 and who have completed the return-to-duty process with a DOT-qualified substance abuse professional, and have tested negative for a return-to-duty test. This testing is arranged by the substance abuse professional for a minimum of 6 directly observed tests in 12 months but can be extended an additional four years that takes place after return-to-duty. A Substance Abuse Professional (SAP) manages the follow-up testing for up to 5 years, determining how many times an employee is tested, and for what substance. These are completed in addition to other DOT required testing.
Post-accident testing: The FMCSA requires the employer to test as soon as practicable following an accident involving a commercial motor vehicle on a public road in commerce, each of its surviving drivers.
Who was performing safety-sensitive functions if the accident involved the loss of human life (fatality); or
Who receives a citation within 32 hours of the accident under State or local law for a moving violation arising from an accident, if the accident involved either:

injury of any person requiring medical treatment away from the accident scene, or
a vehicle has to be towed from the accident scene
The following chart may be used to help determine if a DOT test needs to be done: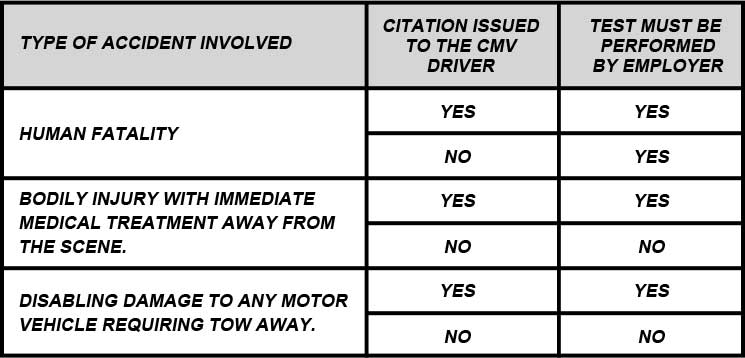 What is a Non-DOT Drug Test?
A Non-DOT drug test is a drug test given to a worker in an industry that's not regulated by the U.S. Dept of Transportation (DOT). Testing done on employees in a non-regulated industry is referred to as Non-DOT drug testing. Non-DOT drug tests are applied by each employer (company).
When are employees required to get Non-DOT drug tests?
Random Testing: These tests may be done monthly, quarterly, or even annually depending on the company's policy. Names are generated randomly by a computer program. This type of testing deters employee drug use since they don't know when they'll be tested.
Pre-Employment Tests: Numerous companies now require all new hires to pass a drug test before starting work. It gives you the chance to keep habitual users out of your workforce. If an applicant is unable to stop using long enough to pass a test, you do not want them on your payroll.
Post-Accident Tests: These tests are usually done after accidents that cause a fatality or injury or could lead to a workers' compensation claim. It is important for the employer to know if the person responsible for the accident was under the influence. It is essential to spell out the timing for these tests in your drug testing policy so the tests can be done before the drugs can clear the employee's system.
Reasonable Suspicion Testing: If you're going to utilize this type of test, you need to have supervisors who are trained to understand suspicious behaviors. They're only conducted if a company supervisor can prove a reason to believe an employee is under the influence.
Return to Duty Tests: If you allow an employee to return to work after having a positive drug test result, it's a good idea to test them once more to make sure they're no longer using. Needs to state in policy.
Follow-Up Tests: If an employee is allowed to return to work after passing a return to duty drug test, you might consider follow-up testing over time to be sure he or she doesn't start using again. This requires several random screens for the employee.
DOES A COMPANY THAT HAS PART-TIME CDL DRIVERS HAVE TO COMPLY WITH THE DOT DRUG TESTING REQUIREMENTS?
Yes, many times companies or owner-operators who have part-time CDL drivers think that because a person does not drive on a regular basis that they don't have to have a pre-employment drug test or be part of a DOT approved random pool consortium. All CDL drivers who are authorized to drive must comply with the DOT drug and alcohol requirements.
What is a Medical Review Officer?
A Medical Review Officer is also known as an MRO is a licensed physician who has been trained and certified in drug testing analysis and who verifies and approves a certified laboratory drug test result. A drug test result is not official until the MRO has reviewed and signed the result.
What is SAMHSA?
SAMHSA is the abbreviation utilized for laboratory certified and accredited by the Substance Abuse and Mental Health Services Administration of the United States Government. While there are many small laboratories that conduct drug testing analysis, some are not certified and should not be used for drug testing.
WHAT IS A DER?
The term DER is used for an employer or company's "Designated Employer Representative". This is the person who works at a company that is responsible for the management of the drug-free workplace program. If the company is DOT-regulated the DER is responsible for ensuring that an employee who is in a "safety-sensitive position" and tests positive is immediately removed from the safety-sensitive position.
If an employee performs safety-sensitive functions for two different employers, is the employee subject to each of the employer's DOT drug and alcohol testing programs?
Yes, under 382, the driver must be in DOT random for each employer they are employed with.
Part-Time Drivers: Do part-time CDL drivers need to be in an employer's DOT random testing pool?
Yes, all CDL drivers of CMVs must be included in the DOT random pool at all times.
Can an alternate driver be selected for a DOT random test if the driver originally selected is not able to be tested during the selection period?
Yes, however, the selection of an alternate driver for random testing is only permissible if the primary driver selected will not be available for testing for the entire selection period because of long-term absence due to layoff, illness, injury, vacation or other circumstances.
How Do I Know if I am in Compliance?
Check off all the items below to confirm your business is in compliance with DOT Drug and Alcohol Testing?
Has the company distributed DOT compliant policies to all covered drivers? 382.601
Is the company policy up to date, when was it last updated?
Does the company have an assigned DER (Designated Employer Representative)?
Is the company aware of the Drug/Alcohol Testing program regulations 49 CFR Part 40 and part 382? Are copies of these regulations on file at the DER office?
Does the company have on file pre-employment Drug test results for all commercial drivers subject to 49 CFR Part 382? Is there documentation that drivers did not perform safety-sensitive duties prior to receiving the confirmed negative results on covered drivers? 382.301
Is correct Federal custody and control form being used for the DOT testing?
Are correct tests and correct forms being utilized for both DOT covered and non-DOT employees?
Has the company allowed drivers to perform safety-sensitive duties prior to receiving a confirmed negative drug test result? 382.301 & 382.107
Is the company conducting inquiries for alcohol and controlled substances information from previous employers?
Does the company have documentation that inquires have been completed for all commercial drivers? 382.413 & 40.25
Are all drivers in a random drug/alcohol testing pool (separate from other company random testing pools), and has 50% of the company's annual average number of drivers been drug tested, and 10% alcohol tested? 382.305
Are new covered drivers entered into the pool prior to any random selections made in the current selection period?
Has DOT-FMCSA Drug & Alcohol Testing program educational materials been distributed to all covered employees? 382.601
Have all supervisors of commercial drivers completed the required DOT supervisors training? 382.603
Is the company aware of what is a DOT-FMCSA post-accident testing situation?
Does the company appropriately conduct post-accident testing? 382.303
Have all drivers in violation of the DOT regulations been removed immediately from safety-sensitive duties? 382.215 & 382.501
Were these drivers given a list of approved substance abuse professionals?
Is your company keeping all required records on file within the required timelines? 382.401
Are you in compliance with the clearinghouse?